Power dialer
Sales Dialer Guide: Power Dialer vs Auto vs CRM
Power up your outbound call efforts with the best sales dialer for your business.
Sales dialers: clearing things up
Power dialers. Auto dialers. Predictive dialers. They're not all the same thing—and yet, on the surface, it can seem like it.
In this guide, we'll demystify some of the confusion surrounding the different kinds of sales dialers used for outbound sales calls. We'll provide a comprehensive definition of power dialers and auto dialers and outline the advantages to each. Then we'll discuss how to use a CRM platform with your sales dialers for maximum benefits.
What is a sales dialer?
Imagine the time it would take to dial all of your customers using a rotary phone. Yikes.
Obviously, we're no longer dealing with rotary phones. But nowadays, just the click of a button on your smartphone is arguably too much when there's tech out there that eliminates the need.
Sales dialers are software tools for quickly reaching out to contacts without all the repetitive tasks that come with making many calls in a row. There are various kinds of sales dialers that automate the outbound calling process in different ways. The two main types are power dialers and auto dialers.
It can be easy to confuse the two, since the word "automatic" pops up when you're talking about both of them. But it's important to know the difference, especially if you want to boost your sales potential by investing in a new sales dialer platform.
Let's dive into outlining these differences with a simple power dialer definition.
What is power dialer software?
Power dialer software is a tool that automatically dials a new number the moment a call ends. It saves the agent from having to look up a number and then manually dial it into their system.
Or click on a number on their computer again and again.
Power dialers are used by sales teams to make as many outbound calls as possible. But here's where they shine: they still deliver personalized and thoughtful interactions with prospects and customers.
Power dialers also come with automation features for collecting and storing customer data. They can drop voicemails, make note of abandoned calls, and send emails to follow-up after a conversation. In addition to logging call times and outcomes and recording conversations for future reference.
The automated nature of this technology often has some people wondering—are power dialers legal? The short answer is yes. The long answer is that there are different restrictions placed on outbound calling practices depending on where you are. To make sure your outbound calling practices are legal, check local, state, and federal communication regulations.
Outbound power dialer
An outbound power dialer is exactly as it sounds—a power dialer for making outbound calls. It's exactly the feature described in the previous section. But it's worth mentioning because sometimes the different terms for all these software tools can be confusing.
If you're working with a power dialer, the "outbound" aspect is implied, because there's no such thing as an inbound power dialer. You don't dial a number to receive a call, after all. There are, however, other useful CRM software and engagement tools that let you field inbound calls. These tools are used mostly for customer service purposes.
Cloud power dialer
Cloud technology refers to any platform that operates through the internet and is hosted on a server off-premise. Thus, a cloud power dialer is a sales dialer platform that you can use on any compatible computer with internet access.
These platforms, including cloud power dialer CRM platforms, typically charge on a subscription basis. They're usually priced based on the number of agents or the number of contacts.
The major benefit to having a cloud power dialer is that maintenance, updates, and bug-fixes are included in the subscription cost. They're all handled by the vendor's IT experts.
As you can imagine, cloud power dialer tools come in very handy for remote sales teams. And with a cloud CRM dialer, you can store and access all of your customer interactions on the platform that you're already using.
What is a predictive dialer?
Predictive dialing goes a step further than power dialers. Whereas the power dialer only dials one number at a time per agent, the predictive dialer dials multiple numbers at once. Then, a supervisor monitors the numbers of dials going out as the predictive dialer uses algorithms to predict agent availability. That way, when a call is answered it can be routed quickly to an available agent with minimal dead space.
Predictive dialers use AI to predict a sustainable ratio of agent to calls. This helps minimize abandoned calls. As well as ensure that your system doesn't send out more calls than your agents can feasibly handle at that time.
What are the advantages to using a power dialer?
The agent is always ready. When using power dialing, there's a 1:1 ratio of agent to calls. For every phone ringing, there's an agent standing by ready to speak to that specific contact. That is a critical advantage if your sales reps's success is based largely on interpersonal connections during the sales process.

There's no awkward pause when the phone is answered.When the contact answers their phone, they're immediately greeted with a human voice on the other end. This gesture of respect for the contact's time establishes trust and good will. Which, in turn, contribute positively to the contact's attitude toward your business.

Agents can offer faster and more personalized interactions. When the agent knows who they're calling, they have time to retrieve their information. This way, they can be more proactive in their conversations and guide the discussion down on a more productive path.

You'll have an organized and shareable record of interactions. Power dialers don't just automatically dial outbound calls. They also let users store and access important information about call history and past interactions, including dates, times, topics discussed, and outcomes. The records are made available to other staff members, meaning calls can be passed among agents without skipping a beat.

You optimize CRM data. Many power dial users also take advantage of CRM integrations. Customer relationship management is all about providing businesses with the tools they need to maintain healthy, profitable customer relationships. An integrated CRM dialer gives agents even smoother and faster access to their customer data, letting agents deliver personalized care that builds trust.

There are more opportunities to sell. The clearest advantage to using a power dialer is that it lets agents make more calls in less time. By not having to sift through numbers, check their accuracy, and dial them digit by digit, agents save huge amounts of time. As a result, they're able to make contact with more prospects, increasing their chances of closing a deal and increasing their sales numbers.
Now that we've explored what a power dialer is and what it does, let's examine the other main type of sales dialer.
What is an auto dialer?
An auto dialer is similar to power dialers in that they both automatically dial numbers. The key difference is in the ratio of agent to calls being placed, and how the calls are handled once they're answered.
Because so many sales calls go unanswered, agents often spend a lot of time just listening to ringtones only to be routed to voicemail. For this reason, auto dialers will call many numbers at once. With the expectation that many of them will be dropped or go to voicemail.
The purpose of auto dialers is to minimize the time spent listening to ringtones. And to ensure that agents spend as much time as possible actually interacting with contacts.
If one of the many calls going out goes unanswered, the auto dialer software leaves a pre-recorded voicemail message and logs having done so. If the call is answered, however, the software will detect that the line is live, and play an automated message.
If the contact is interested in what the message has to say, they'll stay on the line and eventually be connected with an available agent.
Auto dialers are great tools to use when you need a method of getting information out to your contacts quickly—without getting a human agent involved. Schools use them to alert staff and students of closures, and political campaigns use them to alert voters of important dates or events.
In these instances, hearing a recorded message isn't going to hurt the relationship with the contact. The value of the call is in the information provided, not the interaction with an individual.
What are the advantages to using an auto dialer?
Eliminate the dead-air period between calls. Auto dialing software lines up and dials calls for your agents. This means that agents spend less time waiting for calls to be answered, and more time engaging with contacts.

Like power dialers, you can track, store, and analyze customer information. Auto dialers also let you keep accurate records of your customer interactions. Every interaction can provide valuable insight into customer behavior and preferences, but you need the right features to capture and analyze it. The best ones also have features of lead management software or a sales tracker.

Get instant feedback about how a customer feels. Dialing systems identify and log whether calls were answered, unanswered, or passed onto a voice answering system. When this information is automatically processed and stored, agents don't have to worry that they might be nudging a customer at the wrong time. Or barking up the wrong tree entirely. Plus, auto dialer software can also be used to gain valuable customer insight by letting your agents conduct surveys and polls. Customer Satisfaction (CSAT) surveys automatically dial customers and let them rate their experience with a few simple strokes on their keypad. That gives your agents a better understanding of where they're delivering, and where they might be falling short.
Power dialer vs auto dialer
Now that we've explored the functions of power dials and auto dialers, you might be wondering which one is better. Unfortunately, it's impossible to give a blanket answer that will suit every business.
The kind of sales dialer software that will benefit your business the most depends on your outbound calling practices, industry, and size.
People in general have very strong—and mostly negative—feelings about answering the phone only to hear an automated message. For that reason, auto dialer apps are good tools for organizations that don't necessarily have to rely on attentive human connections. They are, however, very helpful for getting information out quickly. If you're an organization that simply needs to get general information out to large contact lists without getting a live agent involved, an auto dialer might suit you well.
Power dialers, on the other hand, are much better at building trusting relationships. Because there's always a live agent on the line, there's no pause between the contact answering their phone and being greeted. Plus, because the agents know who they're calling, they're able to pull up contact data on their computers and greet contacts by name.
Another advantage to using a power dialer is that your contacts never know that software is involved in the process. As far as they know, the agent simply got their number from their list, dialed the number, and initiated the call. Just like a normal conversation.
This helps to build a human connection with contacts that auto dialers just can't deliver on.
CRM dialer integration
Whether your business model calls for an auto dialer or a power dialer, one of the key things to keep in mind is CRM dialer integration. Your customer relationship management platform is a vital tool for helping sales reps deliver fast and personalized care.
While also strategically moving prospects through the buyer's journey. And since the sales dialer platform you use is a huge part of that journey, it's important that you're able to connect it to your CRM.
Integrating your sales dialer with your CRM allows you to make even better use of the data collected during sales calls. It also provides a single point of entry for all customer interactions. Letting your agents perform all of their sales related tasks without juggling multiple browsers and sales apps.
Every outbound call your company makes is an opportunity for a positive interaction. These positive interactions build trust in the buyer-seller relationship and help motivate prospects to buy, whereas every negative interaction can push prospects away forever.
That's why many end-to-end outbound call center CRMs include built-in power dial features on their platforms already.
Is there a power dialer CRM?
You'll find many different iterations of power dialing software on the market. Some, like Zendesk, are power dialer CRM platforms that come out-of-the-box with the best of both worlds. You don't have to bother searching for a power dialer that will integrate with your CRM.
These all-inclusive CRM systems are excellent tools for unifying all of your customer-centric touch points on a single platform.
From there, sales reps easily shift between tasks and access accurate data in real-time. That streamlines the sales process and makes for a smoother and more profitable operation.
Top 10 sales dialer software of 2022
Zendesk Sell




Genesys Cloud




Agile CRM




CloudTalk




Kixie PowerCall



PhoneBurner




DialMyCalls




Aloware




Spitfire Dialers




One Call Now



Whether you're a small organization with only a few agents or an enterprise-size company with hundreds of representatives across multiple time zones, finding the right auto dialer software for your needs is a hefty undertaking. And even a quick internet search reveals an overwhelming truth: there are a lot of auto phone dialer software options out there.
In order to make your job a little easier, we've compiled a list of our contenders for the top 10 auto dialer software of 2022.
Zendesk's industry-leading power dialer integrates seamlessly with its larger family of cloud-based customer relationship programs. Boasting impressive sales call analytics that logs and processes the details of every customer experience, Zendesk offers sales reps everything they need to deliver excellent and personalized customer care.
Zendesk has a long list of intelligent features, including predictive dialer, IVR/Voice recognition, queue management, real-time chat, and more.
And with a dashboard that's clean and easy on the eye, Zendesk makes all of your valuable customer data accessible from one screen — meaning your agents can find the information they need at a glance.
Pricing Model: per user
Best For: 1-1000+ users
Supported Languages: English, German, Dutch, French, Spanish, Polish, Portuguese
Features
CRM integration (both Enterprise and CRM for small business)
IVR/Voice recognition
Predictive dialing
Reporting/analytics
Real-time Chat
Call scripting
Blended call center
Genesys Cloud is a call center platform that connects agents to their customers using email, video, telephone, chat, and social media channels. Used by small to large businesses across a wide range of industries, Genesys Cloud software includes predictive dialing, speech-enabled IVR, and AI-powered chatbots.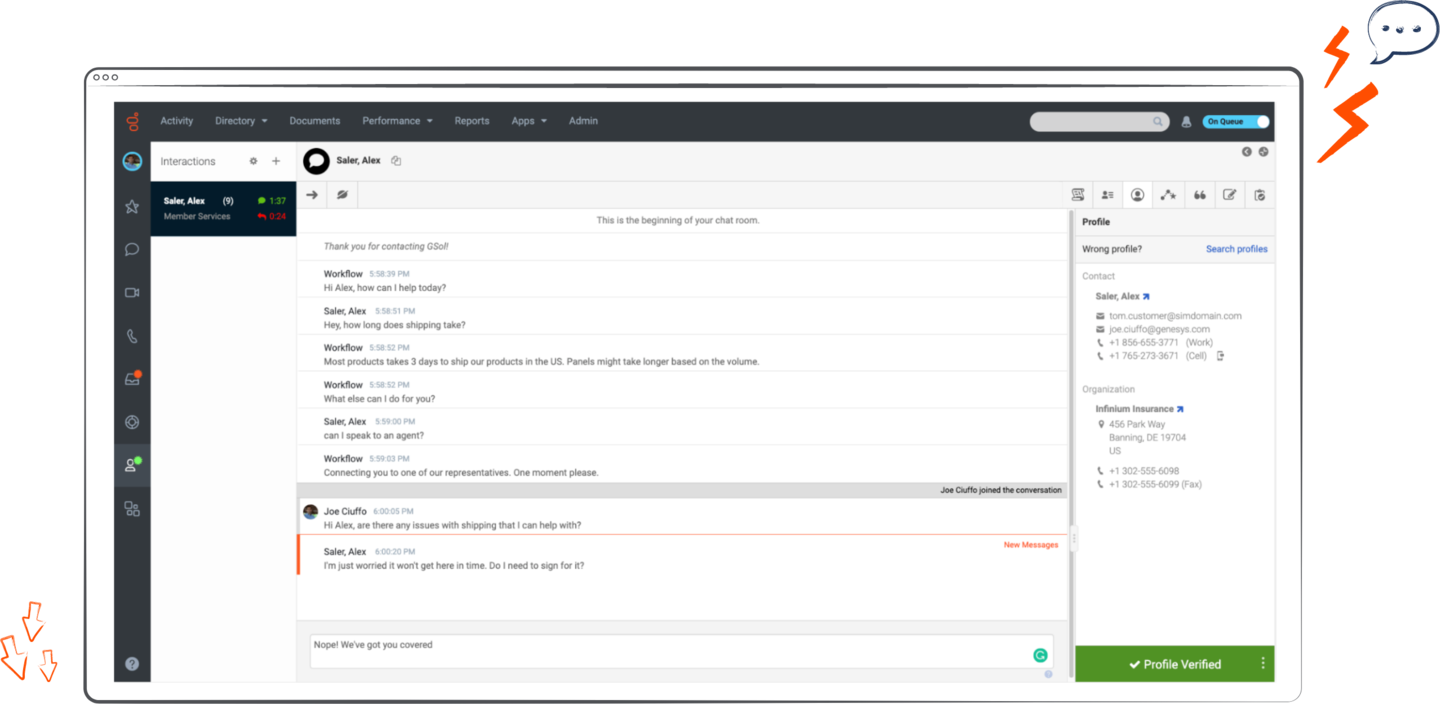 Pricing Model: per user
Best For: 11-1000+ users
Supported Languages: English, German, Dutch, Thai, Norweigan (Bokmal), Korean, Italian, Japanese, Portuguese, Swedish, Polish, Chinese (Traditional & Simplified), Turkish, French, Spanish
Features
Call scheduling
Predictive dialer
Call routing
Alerts/escalation
Campaign Management
Phone Key Input
Complaint Monitoring
Learn more about Zendesk app for Genesys Cloud
Geared towards small to mid-sized businesses, Agile CRM's auto dialer feature performs all the basic functions of an auto dialer program, as well as integration capabilities with its other customer service products.
Pricing Model: per feature
Best For: 1-1000+ users
Supported Languages: English, Spanish, Portuguese, French, Russian, Italian
Features
Blended call center
Call disposition
Call center management
Archiving & retention
Automated routing
IVR/Voice recognition
Automated Publishing
CloudTalk is an automatic dialer app used primarily by small- to medium-sized organizations for their inbound customer management calls and outbound sales calls.
CloudTalk's software offers a list of 70+ features and can be integrated into most operating CRM systems and existing helpdesk programs.
Pricing Model: per feature
Best For: 1-1000+ users
Supported Languages: English, Czech
Features
Blended call center
Call scripting
IVR/Voice recognition
Manual dialer
Predictive dialer
Alerts/escalation
Reporting/analytics
Learn more about CloudTalk's integration with Zendesk
Kixie PowerCall is a cloud-based phone sales platform specializing in intelligent autodialing, automated dialing and texting, and CRM integration capabilities.
Used mostly by sales-based organizations, Kixie Power Call provides integration capabilities with CRM systems including Zendesk, Pipedrive, Slack, and Nutshell.
Pricing Model: per feature
Best For: 2-500 users
Supported Languages: English
Features
Blended call center
Call scripting
IVR/Voice recognition
Manual dialer
Predictive dialer
Alerts/escalation
Reporting/analytics
Learn more about integrating Kixie with Zendesk
Built for SMB customers and sales professionals, PhoneBurner is an automatic phone dialer platform that includes automated content sharing features like disposition, call scripting, and emails.
PhoneBurner's SmartSender feature also allows agents to use real-time alerts that let them know when contacts open marketing materials.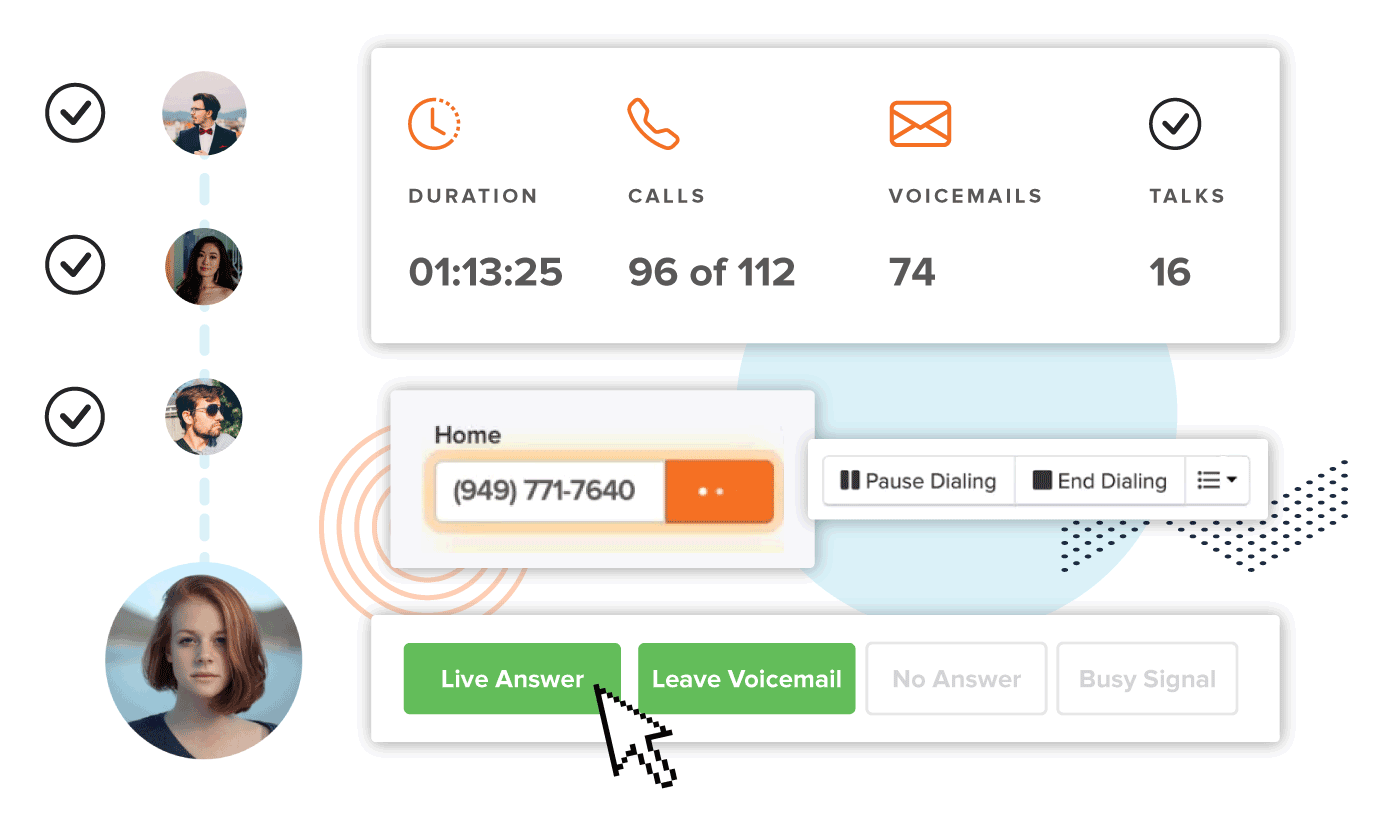 Pricing Model: per user
Best For: 1-1000+ users
Supported Languages: English
Features
Outbound call center
Call scripting
Call logging
Callback scheduling
Archiving & retention
Caller ID
Call center management
DialMyCalls is a phone dialer software solution built for organizations like schools, nonprofits, teams, universities, churches, and utility companies.
This mass notification platform allows representatives to reach contacts across a range of channels including text, email, and telephone. The platform also allows users to customize their own messaging templates and automatically conduct surveys.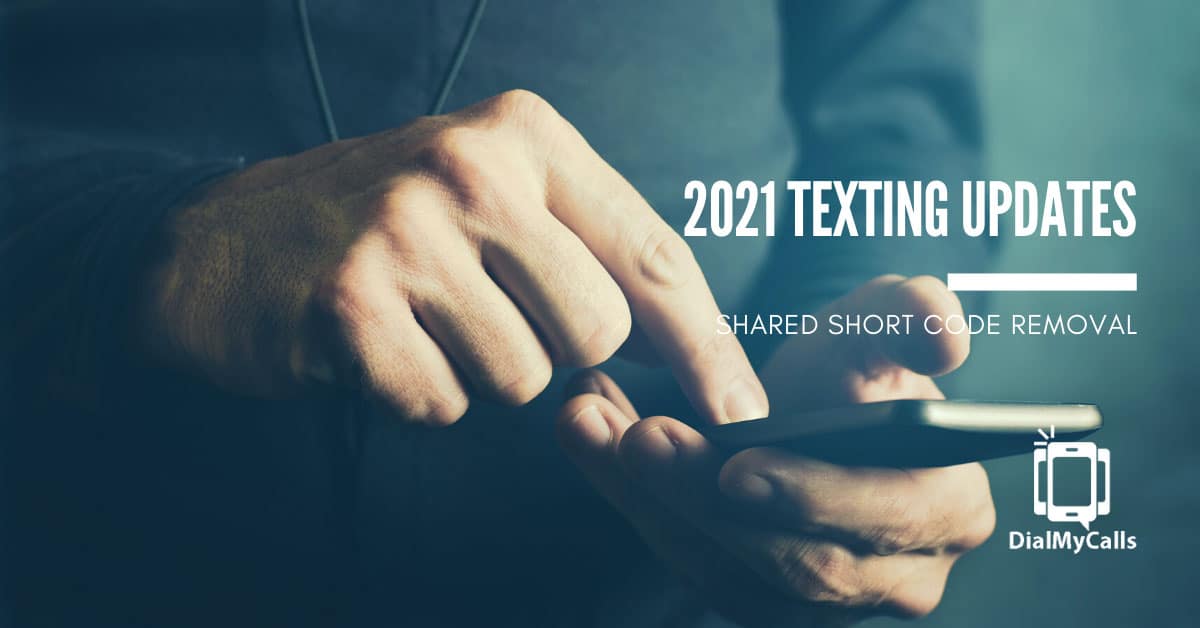 Pricing Model: per feature
Best For: 1000+ users
Supported Languages: English
Features
Mass notifications
Two-way communication
Call recording
IVR/Voice recognition
Polls/voting
Call disposition
Geotargeting
Aloware is an automatic dialer system aimed at SMB customers. This sales call management platform allows agents to contact customers via telephone, text, and social media messaging applications and provides analytics and custom report capabilities for tracking contact data.
Pricing Model: per feature
Best For: 1-500 users
Supported Languages: English
Features
Predictive dialer
Call disposition
Call recording
CRM
Power dialer
Call routing
SpitfireDialers is an online automated dialer software solution with predictive dialing. For organizations who need unlimited lines, Spitfire Enterprise Predictive (SEP) includes five different dialing modes: quick connect, preview dialing, fixed-rate dialing, predictive dialing, and manual dialing.
Pricing Model: provided upon request to vendor
Best For: 1-500 users
Supported languages: English, Spanish
Features
Call scripting
Predictive dialer
Power dialer
Call recording
Inbound call center
Caller ID
Blended call center
One Call Now is a sales call management platform that specializes in automating web-based messaging, SMS texting, and email. Industries currently using One Call Now include religious institutions, hospitality providers, and retail businesses.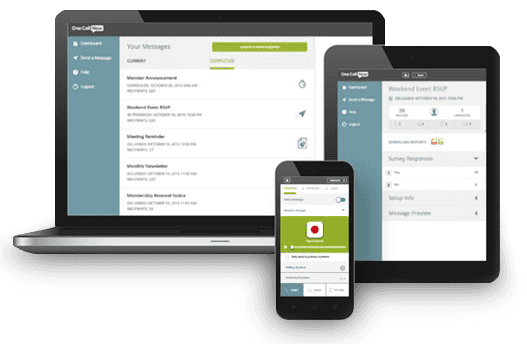 Pricing Model: provided upon request to vendor
Best For: 1-1000+ users
Supported Languages: English
Features
Power dialer
Predictive dialer
Call disposition
Alerts/escalation
IVR/Voice recognition
Mass notifications
Templates
Try free power dialer software for sales
If you want to expand your reach without sacrificing your agents' ability to deliver personalized care, Zendesk Sell is an accessible sales CRM solution with a clean and user-friendly interface. Its sleek power dialer lets your agents reach more contacts with ease. Without sacrificing the careful attention that increases the strength and longevity of your buyer-seller relationships.
Interested in seeing how a power dialer can boost your sales performance? Test drive free power dialer software with Zendesk's 14-day trial today.
Want more information on sales software?
Check out more great resources to take your sales team to the next level.