Contact management software
Contact management software
Contact management software is the key to building strong customer relationships.
A guide to the best contact management software
Customers are the lifeblood of any business, so it's important to keep their information organized and easily accessible. In the past, sales reps had to manually enter contact details, which was time-consuming and error-prone.
Modern contact management software (CMS) decreases typos, saves time, and helps your team procure and organize up-to-date customer information.
In this guide, we'll review some of the basic features of CMS, as well as explore some of the latest innovations that are making CMS work even harder for you and your bottom line.
What is contact management software?
Simply put, contact management software is a digitized address book, allowing businesses and individuals to store and organize their contact information. With so many different channels of communication available today, it only makes sense to stay on top of organizing your contacts.
Disorganized or incomplete contact information can cause massive headaches, delays, and missed opportunities. Well-organized and accessible customer data, on the other hand, is easy to search, up-to-date, and most importantly, profitable.
What is contact management software used for?
Organizations use contact management software to keep their contact lists organized and easily searchable. Using CMS lets you access contact data anywhere. You can also separate contacts into groups so you can target specific demographics and track user behavior on your website.
It's a pretty simple function. Which is why many contact management systems are already integrated with other useful business software. Customer relationships management (CRM) and project management, for example.
What kinds of businesses need contact management software?
Any organization, no matter its size or services, has contacts. And if you have contacts, you need to have an organized and efficient way of storing their information. Staying organized is fundamental to the success of a business. Because it reduces time waste and frustration. Both of which can be destructive to your mission and your bottom line.
What is CRM? Is it the same thing as contact management software?
If you search online, contact management software will inevitably lead you to information on something called customer relationship management, or CRM. A CRM does what contact management tools do, but takes it many steps further.
CRMs let you perform in-depth analysis of your customer data. Sales, marketing, and customer service teams can develop data-driven solutions for improving performance—together. It also includes other useful features like a power dialer, sales pipeline management, and email automation.
Basically, all CRMs include contact management features, but not every contact management app includes CRM features.
Benefits of a contact management system
Contact management software is a massively popular time-saving tool that lets you quickly search, segment, and reach out to your contacts.
But it isn't just about saving time. Using the right contact management software and knowing how to customize it for your sales process can result in some serious benefits.
Better insight into customer behavior
Contact management software lets you store much more information about your customers than an address book or spreadsheet can. With the click of a mouse, you can view a contact's entire history with your company. You can also keep in-depth notes about their interactions with you, tag characteristics, and easily identify purchasing patterns. All of this lets you build a complete customer profile. Then you can pinpoint commonalities and patterns with the people who are spending their hard-earned money at your business.
Improved data organization and accessibility
Contact management tools let you keep your contacts lists up-to-date and organized in one spot. That way everyone in your company knows they're using the same data. Departing reps aren't at risk of taking valuable customer data with them.
And onboarding reps gain a sense of confidence that your company is run with efficiency.
Improved sales and marketing outcomes
Knowing who your customers are and having an organized sales process is going to translate into more sales. When all of your contact data is up-to-date and centrally located, there's less opportunity for leads to fall through the cracks.
Or opportunities to be missed because of lost or incorrect information. Keeping contact data organized and easily accessible means more customers can move through the sales pipeline and make meaningful purchases.
Features of a contact manager
Here are the best contact management tools you can expect to be included with your CMS.
Contact database: Store all of your contact details, including name, email, phone number, website, social media handles, addresses, and more.
Data analysis: Tag contacts based on specific demographics, such as age, location, interests, and industry, which allows you to target specific segments of your customer population.
Lead management software: Capture, track, and score leads as soon as they enter your pipeline, minimizing the chance of dropping leads.
Prospecting tools: Automate repetitive tasks associated with prospecting, such as qualifying prospects, booking meetings, and finding contact details.
Integrations: Connect your CMS to the business and sales app you're already using, like G Suite, Outlook 365, Zapier, social media channels, others.
Contact management software trends
The world of software development is a never ending conveyor belt of innovation. The moment one trend gets moving, another is hot on its heels and ready to take its place. CMS software is no different. In the coming years, you'll see the following trends shaping the future of online contact management software.
Automation
As artificial intelligence continues to be refined, automation possibilities are expanding, giving time back to your sales reps. Automating tasks like customer profile generation and data analysis lets your team focus exclusively on the to-dos that require a human touch.
Customer experience & personalization
Providing a great customer experience means taking care of all your customers, not just certain groups. CMS systems are constantly devising new ways of personalizing the customer experience, from creating localized campaigns to translating messaging into different languages.
Keeping your customers happy is key to keeping your business running smoothly. Which is why one of the best trends to come out of CMS is its integration with customer relationship management software. CRM is contact management on steroids, allowing you to personalize the customer experience with data-driven precision.
Greater reach
Given the events of 2020, it's easy to see why mobility is suddenly so important. The explosion of e-commerce means that businesses have gained the option of selling outside their local markets. And nowadays it also seems that even the team members of a single business can be as spread out as their customer base.
Having a cloud-based system that is compatible with all devices and browsers means you and your agents can access customer data no matter where you are without sacrificing speed or security.
Expanding channels
The vast majority of your customers are on social media, so it only makes sense to reach them where they're already scrolling. Utilizing social media for lead management and prospecting is a great strategy for automatically locating prospects for your sales funnel. Social media is constantly being updated to meet user demand for engaging content. So the best contact list software should be able to navigate and draw data from those channels as those changes occur.
Enhanced digital experiences
Content is the name of the game, and customers are naturally attracted to the latest and greatest. Customer data is being accumulated from more channels than ever. A contact manager needs to be able to reach into new avenues of education, e-commerce, and entertainment.
By keeping an eye on innovations like virtual reality and voice-activated hardware such as Google Home or Amazon's Alexa, CMS systems can stay open to accumulating customer data wherever it happens to be collecting.
Top 13 contact management software solutions
Zendesk Sell




Hubspot




Contact Boss




Streak




Pipedrive




ActiveCampaign




Freshworks



Nimble




Nextiva




Keap




Zoho ContactManager




Lusha




Copper



Zendesk Sell is a sales CRM software solution that offers some of the most useful contact management tools today. With mobile access and a customizable and intuitive user interface, Zendesk Sell is easily integrated into daily workflow no matter where your team is or what their IT capabilities are.
Zendesk Sell boosts salesforce efficiency by letting your team convert more leads with conversational and consultative selling. That frames your reps as advisors as opposed to salespeople. They'll also save time by automating repetitive daily tasks.
Features
2. Hubspot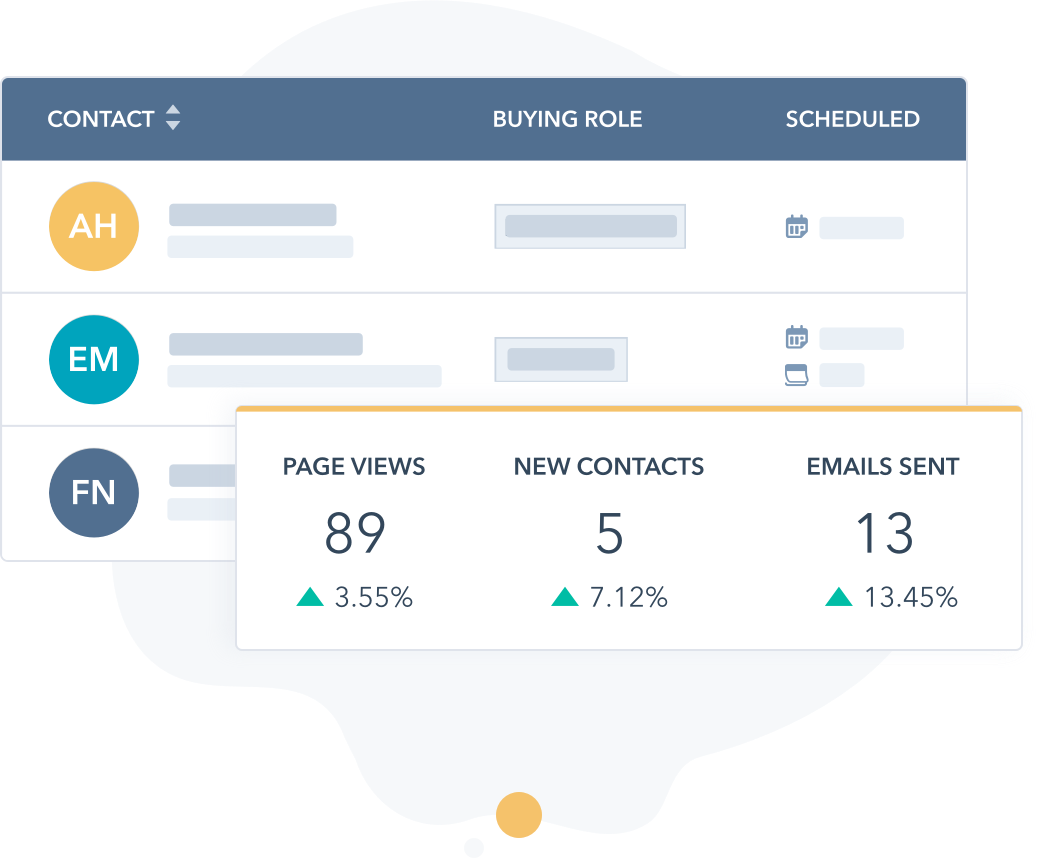 Hubspot is a customer relationship management platform that includes a dedicated CMS hub, which offers a drag-and-drop editor, SEO recommendations, and website themes. Along with CMS functions, Hubspot also offers other business apps like Marketing Hub, Sales Hub, and Service Hub.
Features
Standard SSL certificate
List segmentation
Landing pages
Contact scoring
Content delivery network (CDN)
Record customization
Learn more about Zendesk app for Hubspot
3. Contact Boss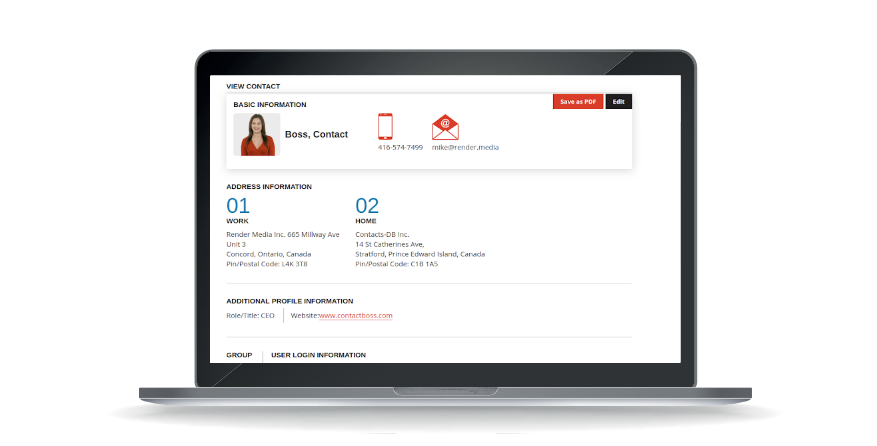 Contact Boss is a CRM database manager offering a "Quick Create" function that allows agents to input new contacts quickly and fill in further details later. It also has features for organizing and searching contacts, as well as eliminating accidental duplicates.
Features
Contact database
Lead management
Segmentation
Data import/export
Search/filter
Shared contacts
4. Streak
Streak is a lightweight CRM for small to mid-sized businesses, and is fully integrated with G Suite applications. It includes contact management features such as social media integration, task management, and email marketing.
Features
Pipeline management
Gmail integration
Zapier integration
Mobile for Android & iOS
Customizable workflows
Reporting
5. Pipedrive
Pipedrive is a CRM for sales teams that focuses on lead generation and contact management. Pipedrive features numerous integrations with other business apps, including Zapier, Pandadoc, and Leadfeeder.
Features
Call recording
Contact database
Lead nurturing
Calendar/reminder system
Chatbox
Reporting/analytics
Learn more about Zendesk for Pipedrive
6. ActiveCampaign
ActiveCampaign is a marketing automation tool that allows users to personalize messaging, segment customer populations, and automate workflow. It features a full email template library and over 300 integrations.
Features
Analytics/ROI tracking
Calendar/reminder system
Contact database
Lead management
Landing pages/web forms
Drip campaigns

Learn more about how to integrate Zendesk Sell with ActiveCampaign

7. Freshworks
Freshworks CRM markets itself as a customer engagement platform. It offers salesforce automation, AI-powered marketing automation tools, and segmentation.
Features
Calendar/reminder system
Reporting/analytics
Internal chat integration
Data import/export
Analytics/ROI tracking
Auto-responders
8. Nimble
Nimble is a CRM featuring Office 365 and G Suite integration, as well as social media connections with popular channels like Facebook, Twitter, and LinkedIn. Nimble's features allow users to segment prospects, build customer profiles, and automate email marketing campaigns.
Features
Lead capture
Sales pipeline management
Contact database
Data import/export
Mobile access
Prospecting tools
9. Nextiva
Nextiva is a contact manager with business phone software functions, including voicemail-to-email capability, call queuing, and a mobile app.
Features
Call monitoring
Contact management
File sharing
Mobile access
Multi-user collaboration
URL customization
10. Keap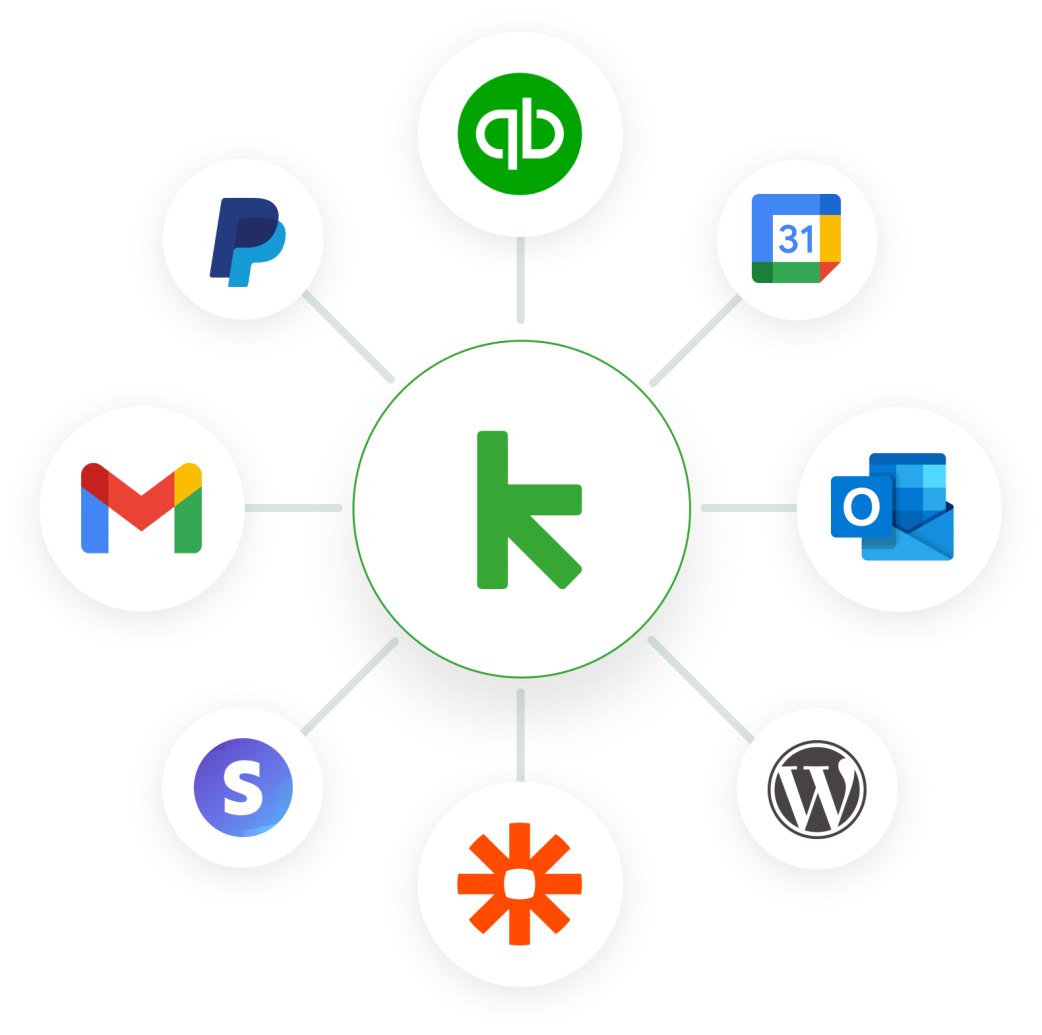 Keap is a CRM for sales and marketing teams that offers features like pre-build reminders, automated emails, and predictive email sending. It has over 230 native integrations, including Zapier, JotForm, and Instapage.
Features
Contact database
Customizable templates
Analytics/ROI tracking
Calendar/reminder system
Lead qualification
Marketing automation
11. Zoho ContactManager
Zoho ContactManager is a dedicated platform for contact management, and includes integrations with Microsoft Office 365, G Suite, and Mailchimp. Zoho also hosts a suite of business apps, including CRM, IT management, and marketing.
Features
Contact database
Data import/export
Lead management
Prospecting tools
Sales pipeline management
Search/filter
12. Lusha
Features
Contact database
Data import/export
Lead capture
Lead database integration
Prospecting tools
CRM integration
13. Copper
Copper is a G Suite-integrated CRM for small to mid-sized businesses. Copper offers standard contact management tools for industries like real estate, corporate development, agencies, consulting, and technology.
Features
Calendar/reminder system
Lead capture
Mobile access
Email marketing
Sales pipeline management
Segmentation
How to select the best contact management software for your business?
Now that you understand what contact management software is and what it does, here are some of the things to consider when you're shopping around for the right CMS for your business.
Cost
Any business investment needs to have a good ROI, so definitely take cost into consideration. A lot of contact management software is included as a part of a greater software package, meaning the price tags can vary wildly.
Make sure you do a full review of your budget and your needs. That way you won't end up paying for more than what you can use.
Scalability
As your contact list gets longer, your sales strategy will become more complicated. The best contact manager is one that can grow with you, so that you don't end up having to switch software down the road. Even if you're a one-person operation, your personal contact management software should be able to cover your business needs as you expand.
Mobile capabilities
Businesses today need to be mobile, which means your software needs to be able to move with you. One of the benefits of using a contact management app is the quick and easy access to customer data. No matter how extensive your contact information, it can't help you if it's stuck on your office computer while you're traveling.
Contact management software FAQs
You're ready to start looking for the best contact management app for your business, but it's likely you still have a few questions. Here are the answers to common FAQs concerning CMS software.
What integrations are included in contact management software?
Most CMS offers integration with calendar and email applications, while others include integration with sales and marketing apps. It's best to do a full review of all the business apps you're currently using, and then cross-check them against any CMS you're considering purchasing.
What are the limitations of a contact management system?
Contact management systems are great for keeping contact details organized, but there's only so much they're equipped to do. That's why any search you perform for CMS will lead you to customer relationship management software, which hosts even more useful features for increasing productivity and profits.
What are the benefits of using CRM for contact management?
Customer relationship management for sales not only gives you all the benefits of an organized, online contact management list, but many other benefits as well. A CRM will give you a 360 degree customer profile, a view of your sales pipeline, and multiple sales and marketing tools for streamlining your sales cycle.
If you're going to invest in a contact management system, it may be more cost effective to go for a complete CRM solution, so you can reap all the benefits on a single platform.
Is contact management software hard to learn?
The difficulty of learning new software always depends on who developed it, and what your IT capabilities are. Most developers try to make their software user-friendly and easily customizable, but even then there can be a steep learning curve involved.
For that reason, it's best to look for platforms that offer extensive training resources and 24/7 live rep support so you'll always have access to the answers you need.
Give contact management software a whirl
Using contact management software is a great way to organize and track your customer base. Which is why so many businesses are already using it.
Zendesk Sell offers free CRM usage with its 14-day trial, so you can experience all the benefits of contact management tools with no risk.
Zendesk Sell is a top-rated sales CRM for small businesses and large businesses. That means it's ready to scale with your company as you grow and attract new customers. To see what a smart, organized customer management system can do for your business, start your 14-day free trial today.
We have more information about this. Have a look below.
There's a lot more where this came from. Keep exploring the world of CRM and contact management software.