Island adventures in customer service: Q&A with Sure
Article
Island adventures in customer service: Q&A with Sure
Published May 14, 2015
Last modified May 14, 2015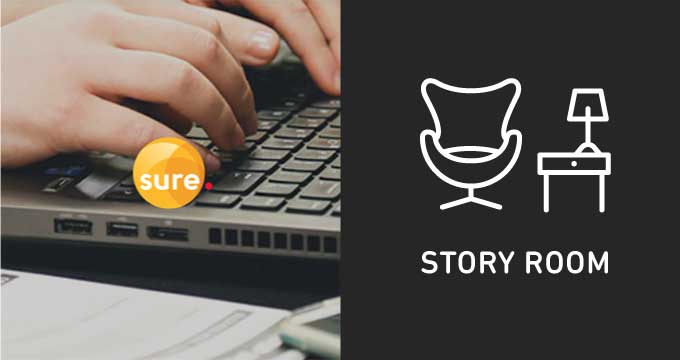 We love to hear stories about the ways that Zendesk Support helps our customers accomplish their goals. It's inspiring to see the creativity behind each implementation, and to learn more about the experience and philosophy that drive great customer service.
We spoke with Sara Liddle and Avril Trump at Sure, a telco provider to the Channel Islands and the Isle of Man. Sara focuses on the customer experience and journey across Sure, and Avril manages the support team at the company's contact center. Though Avril doesn't make much of it, she's been providing customer service for Sure—and the short string of telco companies who came before—for 42 years. This makes her, we dare say, an expert.
The support agents at Sure's Customer Support Center are the first point of contact for all types of support. They have to be extremely agile, handling a wide variety of inquiries across multiple channels. What's the most important trait you look for when hiring a new agent?
Avril: They need to have a good personality, really. We look for someone who's got a bit of life in them. But we also look for IT skills now, as problems are more complex and technical. It takes a good six weeks before anyone new can work on their own.
Sara: Avril's team does a really great job. They deal with a lot of diverse queries, from lots of different people. They definitely cope well under pressure.
Sure is making significant investments in the customer experience. How are you able to identify customer pain points?
Sara: We generally know where they are because customers shout at us—a lot! (Laughs.) We also send out customer satisfaction surveys at the end of a call or email and then we look at the transactional areas where we're not performing so well. We focus first on where we're getting a high volume of complaints.
We'd love to hear any stories you're willing to share about any strange customer service interactions you've had.
Sara: I've got one. This is something that's quite unique to living on small islands. I was in the airport and traveling from Jersey to Guernsey, waiting to board the plane, when I overheard this man complaining about his broadband and the local provider. I was right behind him, so I said, "Switch to Sure. It's much better," and I started to tell him why.
I thought nothing of it. It was quite early and this was the first flight out of the island. We landed in Guernsey and I went about my business. Then about 3 or 4 weeks later I got an email that had made it's way through the organization, all the way through sales, right up to the chief executives and back down again. It was forwarded to me by the sales director who said, "I think this is meant for you."
The gentleman I'd spoken to had taken the time to email and say that he'd met somebody in the airport who was really positive and who had given good, helpful advice about the product we sell. And the only way he'd been able to identify us was because of my Geordie accent! But he'd said, "Thanks very much, this person really believed in your brand and sold it to us," and he is now a customer. So, that's kind of a quirky story about how you can deliver customer service while boarding a plane!
Head over to the full story to learn how Sure uses Zendesk Support