Digité provides AI-driven project delivery management solutions based on Agile, Kanban & SAFe® – Scaled Agile Framework. Ditto is one of several AI/ ML based products that Digité has developed.Ditto is an AI powered similarity engine. It uses various AI/ ML techniques to find similar tickets based on tickets that have been resolved historically. Users can search for similar tickets based on ticket subject or description. Ditto harnesses the power of natural language processing to perform semantic encoding and then uses this to identify tickets of similar meaning. This helps users apply solutions created from historical tickets to new tickets or problems. This helps users leverage collective experience to come to solutions.
We provide contextually similar ticket search feature for up to 15000 recent tickets.
For demo or queries Contact us at dittosupport@digite.com
To know more about us visit us at digite.com.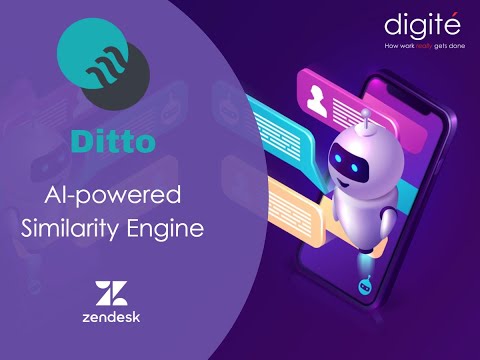 FAQ
Q: Do you migrate data? A: Yes. We do migrate user ticket data to train AI Models which use natural language processing to perform semantic encoding and provide similar tickets.
Q: What is your roadmap? A: We are implementing different apps related to sentiment analysis and operational analytics.
Q: How are you going to handle data deletion? A: We are deleting ticket data once the user uninstalls Ditto. We are also implementing an option for users to delete data after modelling is complete.